About the Fine Art Gallery at Giant Mountain Studio:
Giant Mountain Studio is home to Schroon Lake New York's premier fine art gallery.  A small portion of the main street location also serves as an office space used by Giant Mountain Studio LLC, DBA Samurai Virtual Tours the virtual tour company that brought you 360DACKS.
The art gallery at Giant Mountain Studio showcase original artwork from more than 25  local, Adirondack region artists and furniture makers. Most of the art and furniture in the gallery is available for purchase.
Hours and Location:
Hours for the gallery are currently: Closed Indefinitely. Please contact us for more information or to inquire about art from our artists.
The gallery at Giant Mountain Studio is located on the corner of Leland Avenue and the main street at 1094 US Route 9 in Schroon Lake, NY.  To confirm our schedule, to request an appointment please feel free to contact us via our website or by phone 518-351-5043.
Previous Art Exhibit – The Holidays – Naturally:
The Holidays – Naturally is an invitational group exhibition that will feature art, from approximately 30 local artists. The art will focus on natural themes such as landscapes, wood and wildlife. Art will include paintings, rustic furniture, sculpture, assemblage, pottery, fabric art, jewelry, guitars and more. Unique, handmade items will be available for purchase and there is something for nearly every budget large or small.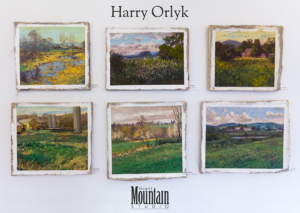 Artists for this exhibition include:
Karen Banovic: watercolors
Tom Benware – rustic furniture
Eric Bright – custom guitars from Adirondack sinker wood
Joan Burke – abstract paintings
Carol Law Conklin – batiks
Rhea Costello – pottery and oil paintings
Stephen DiCerbo – Gyotaku, pen and ink, colored pencil, etching prints
Anne Diggory – acrylic, watercolor, and hybrid
Linda Flannery – mixed media paintings
Frances Gaffney  – pencil, watercolor, pastel
Diane Golden – assemblages
Barry Gregson – rustic furniture
Matthew Gregson – rustic furniture and carved stone bowls
Gerri Groff – watercolor
Eric Gulbrandsen – rustic furniture
Robert Hacunda – oil paintings
Lisa Hart – pastels
Sandra Hildreth – oil paintings
Fred Holman – oil paintings
Denise Leavitt – paintings
Merrell Leavitt – metal sculptures
Al Massa – abstract glass plates and glass and metal jewelery
Nelson Miller – acrylic paintings
Harry Orlyk – oil paintings
Anthony Ruiz – 360° panoramic photography
Tom Ryan – watercolors
Jon Segan – oil on panel with assemblage and sculpture
Peter Shrope – Adirondack Rockware pottery
Mary Stewart – pottery
Jonathan Swartwout – rustic furniture and oil and watercolor paintings
Shelley Valachovic – handmade bark and pine needle baskets and watercolor paintings
Yvonne Wild – saggar and raku pottery, functional pottery
Amy S. Young – stained glass and stained glass sculpture
In total, more than 30 local Adirondack and regional artists will have their work on display for this exhibition. This exhibition is scheduled to run through the end of December 2016. (Please note sold pieces do not stay at the gallery once sold and not all pieces will remain on display until January.)